EK Valley Oaxacan Restaurant similar to Mexican but tastier, healthier in Culver City – June 2015
 Located in the heart of the Culver City Arts District, E.K. Valley Restaurant is a family-owned hidden gem bringing authentic Oaxacan cuisine to many hungry patrons everyday.  When you walk into the E.K. Valley Restaurant, you immediately feel like your are walking to a home, because the staff treats you like family.  The decor is simple with various Mexican art works and tables and chairs arranged in the small, yet cozy dining area.  More often than not, your order will be taken by Chef Epy Garcia himself.  He enjoys meeting the people he is cooking for and that is quite a special experience.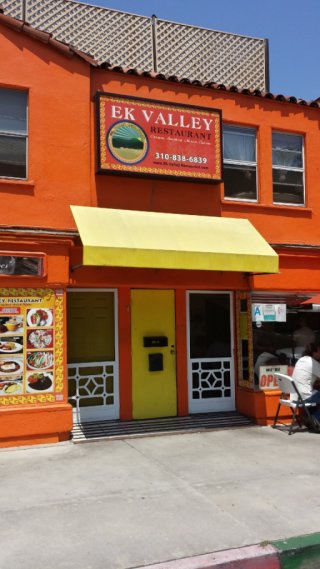 Drinks vary from soft drinks to homemade teas and juices.  Every morning, Chef Epy makes his teas and juices from fresh, one hundred percent all natural ingredients.  Our table was also served homemade fresh delicious guacamole, salsa, and chips: all made fresh, in house.Oaxaca is a state located in Southwestern Mexico and we could immediately tell the differences from most Mexican restaurants we have dined at.  It is definitely lighter, healthier, less greasy, and everything just tastes more fresh.  Chef Epy prides himself on bringing the best and freshest food to his clientele.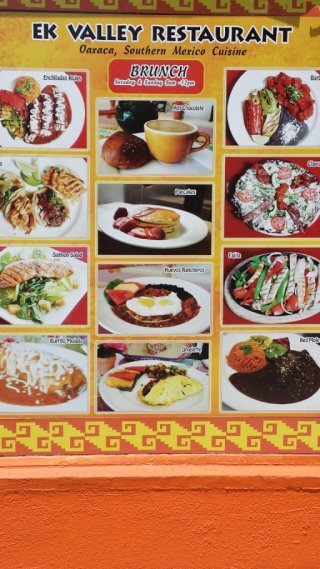 Our table ordered the clayuda which is a type of Mexican pizza consisting of a hand made corn tortilla layered with black beans, lettuce, queso fresco, avocado, tomato, and your choice of meat (chorizo, marinated pork, or steak).  It was so flavorful and the various textures complimented each other and melded well in one bite.  We also ordered shrimp fajitas, the grilled chicken breast dinner, and the salmon salad.  The fajitas came out of the kitchen on s sizzling skillet that you could hear sizzling from twenty feet away.  The shrimp, peppers, and onions, came out piping hot with tons of flavor honestly the best fajitas I have every had.  The salmon salad consisted of a filet of salmon cooked to perfection on a bed of greens with a perfectly balanced dressing.  The grilled chicken breast was moist with a beautiful char, and just like all the other meets marinated and seasoned with Oaxacan spices, exploded with flavor.
Just when we thought we couldn't eat anymore, Chef Epy served us the perfect ending to a perfect meal: caramelized plantains with a yogurt sauce and strawberry drizzle.  It tastes as amazing as it sounds.  The desert was both sweet and savory and melted in our mouths.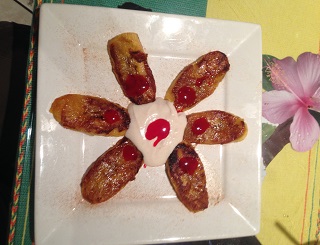 The "E.K." in E.K. Valley Restaurant stands for "Epy's Kitchen" and that is exactly what it is.  Every dish out of Chef Epy's kitchen comes from his heart and soul and the spirit of Oaxaca and you can taste it in every bite.  The meal was an absolute pleasure, we will be back again soon, and we highly recommend E.K. Valley Restaurant on Washington Blvd in Culver City to visit this colorful little Mexican joint known for its preparation of traditional, Oaxacan-inspired cuisine. Their website is under construction at this time but should be up in the near future.
Address: 6121 W Washington Blvd, Culver City, CA 90232
Phone:(310) 838-6839
Hours: 11:00 am – 9:00 pm